Double Exposure, a project of the investigative news organization 100Reporters, celebrates the finest new films inspired by the investigative instinct. It combines film screenings for the public with a professional symposium for journalists and visual storytellers.
Now in its fifth year, DX does more than just identify and celebrate a new genre of filmmaking. It casts this vital body of work toward recognition as a coherent artistic vision. It connects audience appreciation for creative output to the rights of reporters and filmmakers to pursue investigations in the public interest; it ties stirrings of artistic curiosity to practical consequences and groundbreaking storytelling to policy changes.
As DX 2019 approaches, public awareness of investigative reporting's importance for a vibrant democracy has never been more urgent–particularly in Washington, epicenter of the assault on verifiable truth. As grave as may be the efforts to stifle watchdog journalism, however, there is also light: a rebirth of relentless investigative reporting alongside exciting new forms of storytelling that mix journalism with film, serial podcasts in audio and video, hybrid storytelling, virtual reality–even poetry.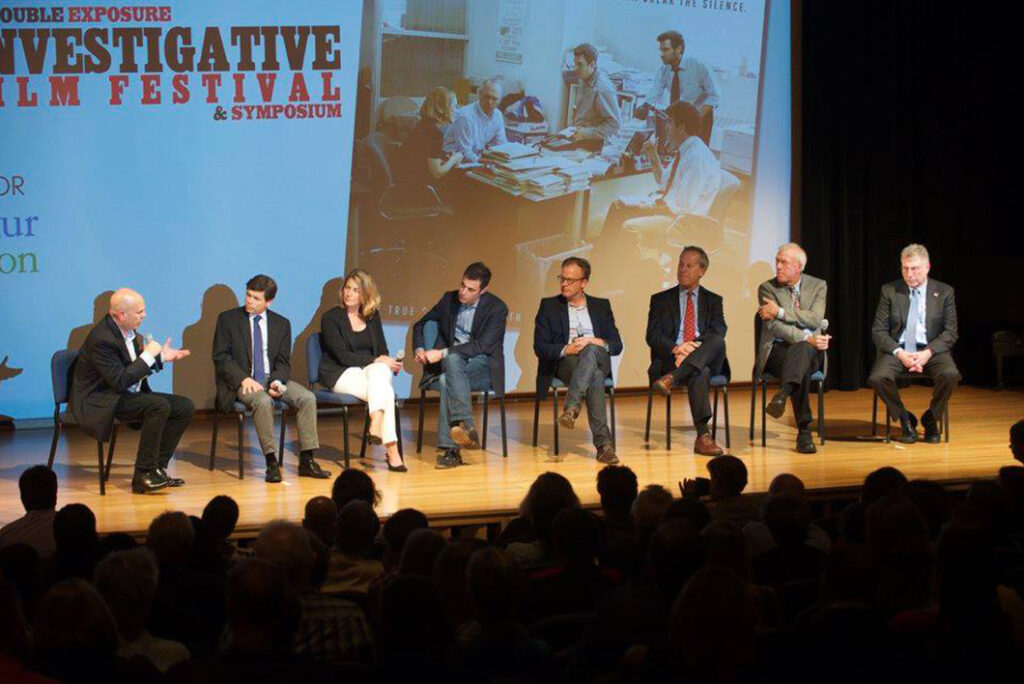 David Simon moderates post-screening discussion of 2015 Opening Night Film, Spotlight, with (from left to right) film subjects and investigative reporters Mike Rezendes, Sacha Pfeiffer, screenwriter Josh Singer, director Tom McCarthy, Ben Bradlee, Jr., Walter Robinson, and Martin Baron.
FILM PROGRAM:
Double Exposure screens timely, compelling films drawn from the notebooks and experiences of investigative journalists and visual storytellers working across a variety of media, whether in print, radio, or film. The films presented at Double Exposure include the Washington premiere of new narrative and documentary works that are either about investigative journalism or journalists, based on investigative reporting, or films that are investigations unto themselves. All screenings are followed by lively discussions with directors, producers, protagonists, subject experts and journalists.
Undercover journalist, Anas Aremeyaw Anas speaks on a DX 2017 symposium panel discussing "Embedded: From Cinema Verité to Immersive Journalism."
SYMPOSIUM:
Double Exposure Symposium (Oct. 10-13, 2019) will welcome more than 250 filmmakers and journalists, both established and emerging, for three days of intensive discussion and training, in a collegial atmosphere. Here, practitioners can examine the challenges and opportunities of investigative storytelling in the current political climate, hear from peers experimenting with exciting new forms of storytelling, connect with industry insiders who can advance projects through the festival's DX Access and DX Pitch initiatives, learn from experts in press law, cyber security and technology, and meet the commissioning editors, producers, investors and distributors who can advance their work.
The symposium offers a range of formats including panels, master classes, workshops and small group meetings. It also includes a Pro Bono Legal Clinic for filmmakers and journalists, with leading press attorneys who have agreed to consider representing participants on a continuing basis. Past programming has taught concrete skills such as safety in the field, encryption, protecting whistleblowers and taking stories from print to screen; made introductions to key investors, editors and producers; and tackled big-picture issues: illicit tax havens, whistleblower protections, and the democratization of investigative reporting and practices.
Speakers at Double Exposure have included national treasures of filmmaking and journalism: filmmakers Alex Gibney, Ezra Edelman, Rachel Grady, Steve James, Yance Ford, Charles Ferguson, Lyric Cabral, Bryan Fogel, Nancy Buirski, Tom McCarthy, Marilyn Ness, Penny Lane, Ryan White, Alexis Bloom, Kristi Jacobson, Alex Winter, Steve Maing, Nancy Schwartzman, Pamela Yates and Paco de Onis, as well as journalists Martin Baron, James Risen, Elisabeth Bumiller, Jane Mayer, Suki Kim, Mark Mazzetti, Cheryl Thompson, Steve Engelberg, Caitlin Dickerson, Janet Reitman, Hanna Rosin, Topher Sanders, and scores more.
"Every city in America should have an investigative film festival."